For events held before 2021, click here.
---
Sunday, December 24, 2023, 1:00 p.m.-
@MAZARIUM Lounge (Morioka Bus Center 3rd floor Akiyoshi Toshiko Jazz Museum Cafe Bar West38)
Performed by: Sumiko Sato (Piano)
Admission: ¥2000 in advance, ¥2500 at the door (one drink order required)
Come feel the warm sound of the piano on chilly Christmas Eve!
For tickets: 080-6036-0038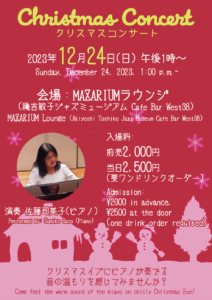 How would traditional songs from Iwate sound if expressed in contemporary piano style?
Enjoy the variety of solo piano works, plus sake brewing songs by a folk song master on a renovated stage in Meiji-era sake brewery.
Performers
Sumiko Sato (Piano)
Fukujiro Nakasato (Guest singer)
Admission: 2000 yen
Sunday, November 5, 2023 2pm~
@Hamato Hall, Morioka Machiya Monogatari-kan
10-8, Nanaya-cho, Morioka TEL.019-654-2911
For tickets, please contact:
Morioka Machiya Monogatari-kan
10-8 Nataya-cho, Morioka-shi, Morioka 020-0827 TEL: 019-654-2911 / FAX: 019-654-2913
E-MAIL:machiya@iwate-arts.jp
Sumiko will accompany the choir.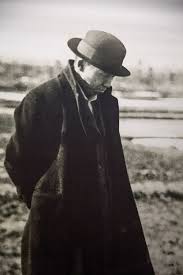 2023 Extension lectures at Fuji University: Thinking from Kenji Miyazawa
Vol. 10 Kenji Miyazawa and Music
 "From Michinoku to the Future Sphere" – On Kenji's Compositions and Music Born from Kenji's Literature –   
 Composer, performer, music educator, Sumiko Sato   
Date and Time: Monday, June 12, 2023, 14:15-15:45 (4th period)
Venue: Fuji University
Details: http://www.fuji-u.ac.jp/area/koukai/kenji
*The lecture will be broadcasted on Hanamaki Cable TV.
*Online streaming→ "Fuji University Public Relations Channel – YouTube".
If interested in attending the lecture, contact Fuji Univer Affairs & Supervision Dept. 0198-23-6221