For events held before 2021, click here.
---
(Sumiko will be the lecturer for the Session 2 and 3.)
Music of "Joy and Sorrow"
Date: Jan. 14, Jan. 21, Jan. 28, 2023
Venue: Ueda Community Center, Morioka
Session 1: Music of Joy and Sorrow as Heard by Araebisu" (SP record appreciation and lecture)
Lecturer: Masashi Iwasaki, Director of Nomura Kodo & Araebisu Memorial Museum
Session 2 (January 21) "Why are we sad? Why are our hearts so excited (lecture and performance) Lecturer: Shumiko Sato
Session 3 (January 28) "Techniques of Composition and Arrangement, Expressions of Joy and Expressions of Sadness (lecture and performance)"
Lecturer: Shumiko Sato
Contact: 019-654-2333 Attn: Hiroshi Miyoshi, Mitsuru Sasaki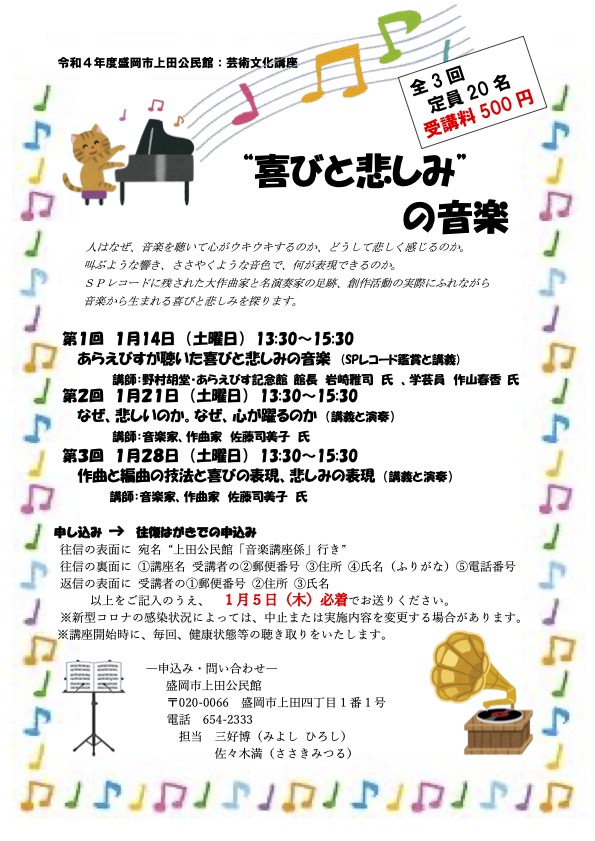 Saturday, November 5
at 53 Pleasant View Drive, Winthrop
Hospitality will begin at 5 p.m., with the music to follow.
Suggested donation: $25/person
Special performance by Composers & Improvisers coming up this week.
If you happen to be in the Seattle area, come see us and listen to diverse contemporary music and improvisations.
It will be a fun, exciting night for sure!
Jack Straw Cultural Center's 60th Anniversary Reunion Thursday, November 3, 7pm
Suggested donation: $5-$15
Chapel Performance Space at the Good Shepherd Center
4649 Sunnyside Ave. N, 4th floor, Seattle, WA
Join us for a special evening of performance featuring members of the Composers & Improvisers Workshop.
The group, which was open to participation to anyone interested in developing their skills and collaborating with other musicians, presented regularly at Jack Straw in the late 1990s.
Workshop alumni Lynette Westendorf, Sumiko Sato, Jim Knodle, Kenny Mandell, Don Berman, Steve Griggs, Charles Hiestand, Casey James, Elizabeth Strauss, and others will perform newly composed works and improvisations in a variety of combinations.
Leanna Keith (flute), Steve Griggs (Soprano Saxophone), Casey James (Alto Saxophone), Charles Hiestand (Bass Guitar), Don Berman (Drums),will perform "Sotoyama Trail" by Sumiko and with herself (piano).
Links:
https://www.waywardmusic.org/?p=7122
https://www.jackstraw.org/event/composers-improvisers-workshop-reunion/


Doors open 14:30
Concert begins at 15:00
Admission free, 50 seats on a first-come, first-served basis (numbered tickets available)
Piano: Masatoshi Nakano
Bass: Taishi Aoki
Drums: Yotaro Imamura
AltoSax: Kangi
AltoSax: Sachiyo Nayuki
TenorSax: Yoshikazu Inomata
TenorSax: Tatsuro Kikumoto
BaritoneSax: Masayuki Kamei
MC/Vocal
Maki Munehisa
Special Appearance
Piano: Sumiko Sato
Fuji University Open Class "Thinking from Kenji Miyazawa
Vol. 11 "Kenji Miyazawa and Music
 ~Kenji Miyazawa and Music" – Musical works by Kenji himself" –   
 Composer, performer, music educator, Sumiko Sato  *Online streaming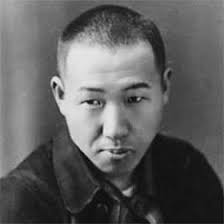 Date and Time: Monday, June 20, 2022, 14:15-15:45 (4th period)
Venue: Fuji University, Bldg. 5, 1F, Stair Classroom
Details: http://www.fuji-u.ac.jp/area/koukai/kenji
We will inform you on this page when it is open to the public.
(To prevent the spread of the new coronavirus, the lecture will not be open to the outside public at this time.)
*The lecture will be broadcast on Hanamaki Cable TV. (Broadcasting dates and times: Wednesdays at 3:00 p.m. and 10:00 p.m.)
*To watch the online streaming, click here → "Fuji University Public Relations Channel – YouTube".
If you are interested in attending the lecture, please contact Fuji University General Affairs & Supervision Dept. TEL: 0198-23-6221
On June 3, Sumiko will be presenting an improvisation on Virtual Listening Program between 9 and 10 a.m.
IAWM'S 2022 CONFERENCE
CALL & (HER) RESPONSE: MUSIC IN THE TIME OF CHANGE
When: June 2-4, 2022
Where: Oregon State University, Corvallis Oregon
website: 2022 Conference | International Alliance for Women in Music (iawm.org)
full schedule: https://bit.ly/3Mqsq2d
Hosted by Oregon State University on their campus between June 2 through 4, 2022, the International Alliance for Women in Music, in association with OSU's College of Liberal Arts and the Office of Academic Affairs, the conference will be an in-person event with virtual satellite events from across the globe.
This conference will bring together people (women AND men) who celebrate Women in Music and challenge, and transform our future with cutting-edge music, music technology, and innovative scholarship resulting in increased visibility, opportunities, and connections. We are creating a collective and community-based cultural happening to elevate, celebrate, and situate female and female identified creatives in music with all kinds of experiences, from all different places and music-making spaces.The submissions included those taking risks to chart new ground, unheard voices advocating for sound practitioners and makers; those reimagining equity and inclusion in the world of making music and curation, and those reaching back to advocate for students, friends, colleagues, and the next generation.

International Alliance For Women in Music: Call & (HER) Response:
Music in The Time of Change
June 2-4, 2022
Oregon State University & Online
1pm- Sunday May 15th, 2022
@Iwate Bank Aka Renga Hall
Sumiko Sato: Piano
Pay as you wish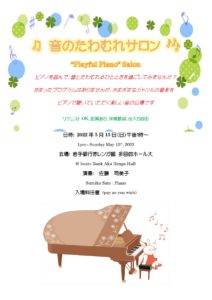 @Cafe Hibiki
(4-40 Higashi Midorigaoka Morioka)
Admission: 2,500 yen (with a complimentary drink)
Limited seating.
In order to prevent COVID-19 infections, please be sure to wear a mask before entering .
performed by
Sumiko Sato (piano)
Aya Kimizuka (flute, supporting)
presenting
・Christmas Medley
・I Got Rhythm
・Variations of Nanbu Cow-herding Song
etc.